Managing Anger
Summary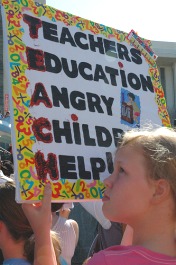 In this module you were introduced to the definition and varying types of anger expression. You were also introduced to different strategies for identifying and managing anger, including some sample classroom activites.
Finally we took time to provide our own feedback on how we can implement these strategies in our own classrooms settings and to explore how educators in the United Kingdom deal with anger management in their schools.
Photo by flickr user CLongueira
Submit Feedback on this Module
Your ideas and opinions are valued as we develop and improve our learning modules.
A few minutes of your time taken to Provide Feedback (<- click on link to go to our short feedback form) on this module would be greatly appreciated.
Thank you.
Licensed under the Creative Commons Attribution Non-commercial Share Alike 3.0 License
Brought to you by CReducation.org